Blog
This is the place for meditations on the journey. Comments and thoughts welcomed. Please be 'civil'!
Details

Written by

Brian Harvey

Hits: 1060
World in the Wrong
"But very truly I tell you, it is for your good that I am going away. Unless I go away, the Advocate will not come to you; but if I go, I will send him to you. When he comes, he will prove the world to be in the wrong about sin and righteousness and judgment: about sin, because people do not believe in me; about righteousness, because I am going to the Father, where you can see me no longer; and about judgment, because the prince of this world now stands condemned." (John 16: 7 – 11 NIV)
Feeling sinful, unrighteous, and judged is often a normal attitude for the Christian. The above scripture gives the answer to these pervasive problems. Let's first look at the context of these words. Immediately before these words Jesus has warned the disciples of persecution: being put out of the synagogue and being put to death by those thinking they are doing a service to God. Following these words Jesus shows them that the Spirit of truth will complete what Jesus has been unable to teach them because they are not ready.
Let me make a change to the previous paragraph without actually changing the words. By that I mean that I want to explain changing the word "normal" in the first sentence to "average." It is not actually normal for the Christian to live in a state of feeling sinful, unrighteous, and judged. However, the average Christian often does. As followers of Christ we have been delivered from sin; we have the righteousness of God in Christ Jesus; and we no longer live under condemnation or judgment but have passed from a sentence of death to life eternal. This all is true because of the presence of the Holy Spirit in the world.
How does Jesus explain that sin is overcome and the world is proved wrong? When the Holy Spirit guides us into believing in the saving work of Jesus sin is overcome. In very truth our sins have been taken to the cross and left there by Jesus Christ. Our sins are forgiven because we confess that we have sinned and that we are sinners. We decide to change our way of life through the power of the Holy Spirit and live new lives in Jesus Christ. Baptism represents dying to sin as we go under the water and being raised to a new life as we come out of the water. When we confess our sins God is faithful and just and will forgive us our sins. (1 John 1: 9)
Because our sins are forgiven we are no longer in a position of unrighteousness. Even when we are accused by Satan and persecuted by others who claim in some way that we are unrighteous; we do not live in an attitude of unrighteousness or in actual unrighteousness. We are actually transformed into the righteousness of God.
The third work of the Holy Spirit in proving the world wrong is a sense of condemnation or living in judgment. In very truth Satan no longer has anything to accuse us. In actuality, Satan stand condemned; he cannot condemn us. He has no power to condemn us. We are saved from the condemnation of the world. Jesus has overcome sin, the world, and the devil.
Write comment (0 Comments)
Details

Written by

Brian Harvey

Hits: 1078
For the Glory of God
"Father, the hour has come. Glorify your Son, that your Son may glorify you. For you granted him authority over all people that he might give eternal life to all those you have given him. Now this is eternal life: that they know you, the only true God, and Jesus Christ, whom you have sent. I have brought you glory on earth by finishing the work you gave me to do. And now, Father, glorify me in your presence with the glory I had with you before the world began." (John 17: 1b – 5 NIV)
"My prayer is not for them alone. I pray also for those who will believe in me through their message, that all of them may be one, Father, just as you are in me and I am in you. May they also be in us so that the world may believe that you have sent me. I have given them the glory that you gave me, that they may be one as we are one—I in them and you in me—so that they may be brought to complete unity. Then the world will know that you sent me and have loved them even as you have loved me." (John 17: 20 – 23 NIV)
These are excerpts from Jesus' prayer for his disciples and for believers in the future who would become disciples because of the message spread by Jesus' current disciples. The bottom line of this article is that I believe in the power of Jesus' prayer and I believe in the power of our prayers.
We live in the world. By that I mean that there is an actual physical world and we have actual physical bodies living in that physical world. However, although we live in bodies; the bodies are not who we are! We actually are spirits. We have mind, will, and emotions that are our souls. These spirits who have these souls live in the physical bodies.
The kingdom of God is not of this world:
"Pilate then went back inside the palace, summoned Jesus and asked him, `Are you the king of the Jews?'
"`Is that your own idea,' Jesus asked, `or did others talk to you about me?'
"`Am I a Jew?' Pilate replied. `Your own people and chief priests handed you over to me. What is it you have done?'
"Jesus said, `My kingdom is not of this world. If it were, my servants would fight to prevent my arrest by the Jewish leaders. But now my kingdom is from another place.'
"`You are a king, then!' said Pilate.
"Jesus answered, `You say that I am a king. In fact, the reason I was born and came into the world is to testify to the truth. Everyone on the side of truth listens to me.'
"`What is truth?' retorted Pilate. (John 18: 33 – 38a NIV)
There are several assertions that have been made in this article either by my writing or by the quotation of scripture. Let's list these assertions, if we can, and see if there is a logical conclusion:
Jesus' prayers are powerful and effective and we can expect to see His prayers answered.

Jesus prayed that He would be glorified.

The glory that Jesus was referring to was specifically that He and the Father are one.

That glory was demonstrated by Jesus completing the work that Father had sent Him to do.

Jesus prayed that we enter into His glory that He has with the Father by coming into complete unity.

The kingdom of God demonstrated on earth is not of the world.

The kingdom of God is from another place.
The conclusions of these assertions are that the kingdom of God is a spiritual reality that is actually on the earth but not visible to the world. The definition of the kingdom of God must be unity of the believers that is a spiritual reality and cannot be a visible reality. The kingdom of God is a spiritual entity that currently exists among us but our attempts to make it a physical entity will always fail because the creation of a physical entity would always be by human effort.
How, then, does the kingdom of God take physical form on the earth? Being human we are living in physical bodies even through our actual existence is spiritual. Therefore, we would like to see a physical demonstration of the kingdom of God.
We have just seen such a physical demonstration of the spiritual reality that is the kingdom of God on earth. Satanic reaction to the kingdom of God is terrorism in many forms. Satan's constant struggle is to reduce creation to chaos by whatever means he can find. When God had completed creation in the beginning; Satan's reaction to the declaration: "God saw all that he had made, and it was very good," (Genesis 1: 31a NIV) was "Did God really say . . ." (Genesis 3: 1b NIV) So we find demonstrated Satan's constant struggle to destroy what God has created.
The recent terrorist attacks at Charlie Hebdo in Paris, France, was another of Satan's attempts to destroy what God has created. The reaction to that attack was unity. We find this difficult to take in. The unity was the underlying reality all along. There already existed a vast assumption of unity. This reality of unity was what Satan is attacking. Whether it is in France or Nigeria the attack was against an already existing spiritual reality of unity. In Paris the attack was against freedom of speech and in Nigeria the attack was against the right to live in peace as Boko Haram slaughtered over 2,000 innocent villagers.
My conclusion may be difficult to see because we look with the physical rather than the spiritual eyes. My conclusion is that the kingdom of God does exist in the spiritual realm and can be seen by the spiritual eyes of those who are willing to look. For most of us we only see Satan's reaction to the spiritual reality and conclude that the world is getting worse. However, when there is an act of Satan violent enough to excite world opinion; there will be demonstration of unity that reveal the existence of the kingdom of God among us.
Write comment (0 Comments)
Details

Written by

Brian Harvey

Hits: 1046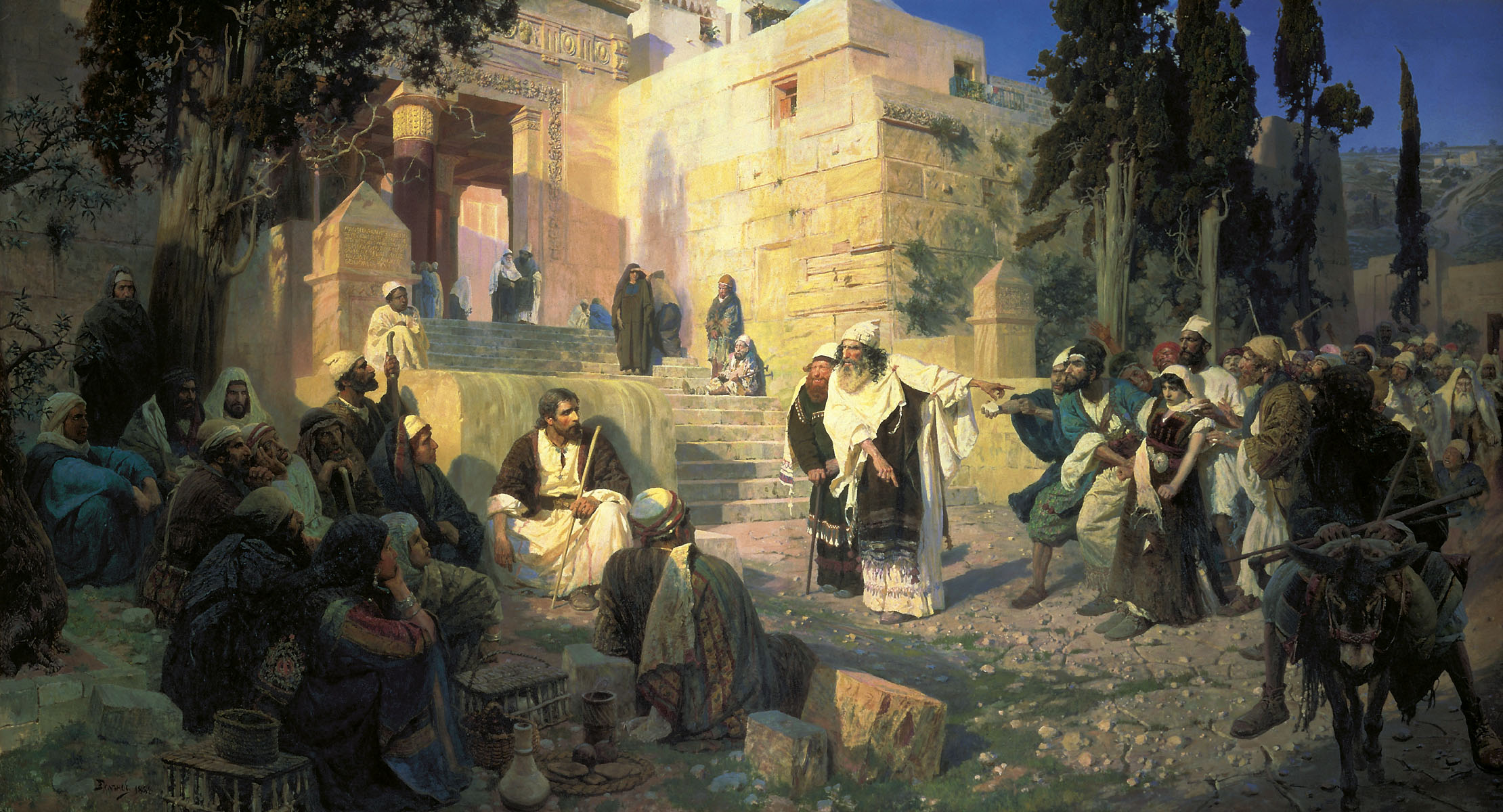 Condemnation or Salvation
"At dawn he appeared again in the temple courts, where all the people gathered around him, and he sat down to teach them. The teachers of the law and the Pharisees brought in a woman caught in adultery. They made her stand before the group and said to Jesus, `Teacher, this woman was caught in the act of adultery. In the Law Moses commanded us to stone such women. Now what do you say?' They were using this question as a trap, in order to have a basis for accusing him.
"But Jesus bent down and started to write on the ground with his finger. When they kept on questioning him he straightened up and said to them, `Let any one of you who is without sin be the first to throw a stone at her.' Again he stooped down and wrote on the ground.
"At this, those who heard began to go away one at a time, the older ones first, until only Jesus was left, with the woman still standing there. Jesus straightened up and asked her, `Woman, where are they? Has no one condemned you?'
"`No one, sir,' she said.
"`Then neither do I condemn you,' Jesus declared. `Go now and leave your life of sin.'" (John 8: 2 – 11 NIV)
[This story does not appear in some of the earliest manuscripts according to the translators of the NIV. This does not make it untrue; it simply means that it was carried by oral tradition until it was included in the text. In my opinion, it certainly fits the character and wisdom that I would associate with Jesus from all sources we have.]
"Do not judge, or you too will be judged. For in the same way you judge others, you will be judged, and with the measure you use, it will be measured to you.
"Why do you look at the speck of sawdust in your brother's eye and pay no attention to the plank in your own eye? How can you say to your brother, `Let me take the speck out of your eye,' when all the time there is a plank in your own eye? You hypocrite, first take the plank out of your own eye, and then you will see clearly to remove the speck from your brother's eye." (Matthew 7: 1 – 5 NIV)
"For God did not send his Son into the world to condemn the world, but to save the world through him." (John 3: 17 NIV)
My heart is breaking because of the 17 people who were killed in France during the recent events related to the attack on the satirical weekly Charlie Hebdo. As you can see from the above scriptures even sin cannot separate us from the love of God. Jesus came into the world to save the world and not to condemn it. These acts of terrorism are reactions to the love of God to save the world. In fact, the development of the religion founded by Mohammed is a reaction to the Gospel message. Those who questioned Jesus in the story of the woman caught in adultery were of the same mind as those in Islam who choose to live by law rather than grace. When a terrorist lashes out to kill he or she is condemning others because they do not agree with them. Those sects of Muslims who view terrorism as a valid weapon are actually acting in a criminal rather than a religious way.
As Christians, we have the right to express love to all whom Jesus died for. We also have the obligation to stop those who would act in criminal ways. We must both bow in prayer and act decisively in support of defending ourselves and others against terrorism.
Write comment (0 Comments)
Details

Written by

Brian Harvey

Hits: 993
Show Us the Father
"Philip said, `Lord, show us the Father and that will be enough for us.'" (John 14: 8 NIV)
Is not Philip's cry the cry of each of us who are searching for a love relationship with our heavenly Father? The truth is that we carry deep hurts and scars of these hurts that prevent us from making that love connection with Father. I am not an expert in child and baby care by any means. But I do know that if a child is uncomfortable for any reason it is impossible to express love to that child until the source of discomfort is dealt with. If a child is hungry she must be fed before contentment can be achieved. If a child has an injury such as a skinned knee the injury must be dealt with before he can be comforted.
As we grow older we become hurt by our relationships with other people or by our own treatment of others that is not appropriate.
[At this point in my writing I paused and went back to bed with the prayer in my heart that God would help me complete this article later. After getting ready for the day I wrote in my daily journal called "Prayer for Help" the following prayer:]
– Father, I base my prayers and my life on the Bible. John said that for those who believed in His name (the name of your Son, Jesus) He gave the right to become children of God. John also recorded that Jesus said, "Very truly I tell you, whoever believes in me will do the works I have been doing, and they will do even greater things than these, because I am going to the Father." These words are why I have the temerity to call you Father and why I believe that I can do what Jesus did. Help me to fit into the proper pattern of life so that these words will become a reality for me. Help me to declare this message and see it become a reality in many others.
I have written these articles each day, with a few exceptions because of travel, for more than a year. Each day, before I write a blog, preach a sermon, or comment on a passage of scripture, I pray that God will help me. He always does. Let me repeat that; God always answers my prayers for help. As I enter these prayers in my journal my fingers always pause the slightest moment before I begin the prayer with "Father," because I believe that there is nothing in me that gives me any right to address God as Father. Then I remember John 1:12 and type "Father," and continue my prayer while thinking praises that I have the right and authority to become a son of God and that I have the right and authority to do all that Jesus did. I then type my prayer with the confidence that God will always make it come to pass. Not because I am anything but because Jesus has overcome the world, and sin, and the devil.
The bottom line is that each one of the believers in the world has the same right and authority to become daughters and sons of God. We have the same right and authority to do all that Jesus did. I believe that when we grasp that truth the world will become all that Jesus died to make it.
I will end this article with a written prayer for myself and for all who follow Jesus: Father, thank you for sending Your Son into the world to show us fully who You are! Help us all to grasp the truth that we have the power and authority to become daughters and sons of God and fully live like Jesus lived. You and Your Son, Jesus, have sent the Holy Spirit to guide us and direct us to fulfill all You have for us to do until Jesus returns. Help us live according to Your plans and purposes as we follow Jesus in the power of the Holy Spirit.
Write comment (0 Comments)
Details

Written by

Brian Harvey

Hits: 819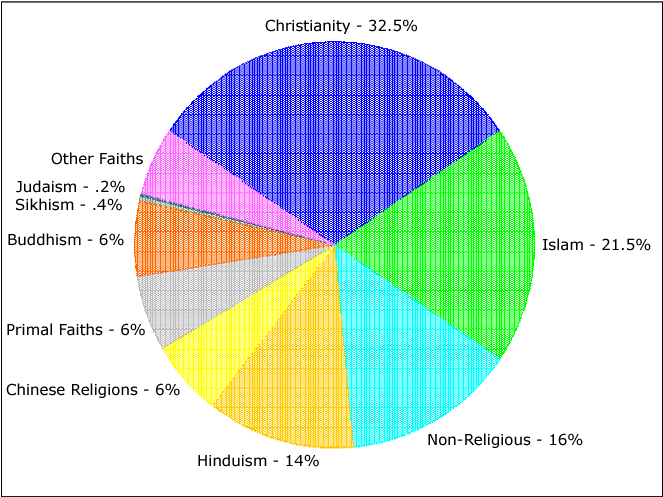 Winning or Losing?
(Or Is It a Contest?)
After the massacre at Charlie Hebdo headquarters where the editorial staff were gunned down by two terrorists the world has reacted in shocked protest to the horrific and barbaric slaughter of 12 persons because Charlie Hebdo have lampooned the prophet Mohammed and the Islamic religion. This event happened in France which has the largest Muslim population in Europe. World governments, particularly in the west, have announce high alerts against possible future attacks from jihadist influenced attempts to create terrorist situations. As I have studied and considered these events I am of a mind to consider the differences and similarities of world religions and the purpose of religion in the human experience generally.
"Religion – 1. The service and adoration of God or a god as expressed in forms of worship. 2. One of the systems of faith or worship. 3. The profession or practice of religious beliefs; religious observations collectively; pl. rites. 4. Devotion or fidelity; conscientiousness. 5. An awareness or a conviction of the existence of a supreme being, arousing reverence, love, gratitude, the will to obey and serve, and the like; as, man only is capable of religion." (From Webster's New Collegiate Dictionary, 1960)
The definition above is general and obviously dated to 50 years ago.
A religion is an organized collection of beliefs, cultural systems, and world views that relate humanity to an order of existence. Many religions have narratives, symbols, and sacred histories that aim to explain the meaning of life and/or to explain the origin of life or the Universe. From their beliefs about the cosmos and human nature, people may derive morality, ethics, religious laws or a preferred lifestyle. According to some estimates, there are roughly 4,200 religions in the world.
The definition above is from Wikipedia, an online dictionary and gives a more up-to-date definition. Note that the later definition attempts to define religion without reference to God; but makes the definition center on origins, cosmos, ethics, lifestyle, etc. By this later definition we could actually classify atheism or secularism as religions.
Current estimates place Christians at about 32% of world population and Muslims at about 23% of world population. Why do I even mention these statistics? Are the events at Charlie Hebdo even related to religion whether Christian or Muslim? I am a Christian. The men committing this heinous were shouting about Allah and we could conclude that they were Muslim. Actually, this act was criminal and really does not fit into any definition of religion. We are dealing with a crime; not a martyrdom. This is no more religious than a person killing his fellow-workers at an office because he had been fired.
These men think they are serving Allah, the Arabic word for God, in some twisted thinking that purports to give them divine sanction for criminal acts. Christians have done, and still do, similar acts of violence against others who do not agree with their particular forms of beliefs.
Write comment (0 Comments)
Details

Written by

Brian Harvey

Hits: 1006
Je Suis Charlie
"Charlie Hebdo, the French weekly that lampoons sacred cows," was a headline that I selected from an article on the internet to introduce this article discussing resent news events. My usual selection of inspiration is from the Bible but I want to join in solidarity with world opinion in response to the "barbaric" massacre at the Charlie Hebdo offices. Many have taken to the streets and to the internet standing together under the banner, "I am Charlie," or "Je Suis Charlie," because of the horrific action of three men who massacred editors and staff at the satirical weekly because of cartoons and editorials depicting Mohammed, the founder of Islam. In my opinion such violent and vicious reaction to printed attacks is not a reflection of Islam any more than Hitler's interpretation of Christianity was a proper reflection of the teachings of Jesus Christ or the Bible.
"You have heard that it was said, `Eye for eye, and tooth for tooth.' But I tell you, do no resist and evil person. If anyone slaps you on the right cheek, turn to them the other also. And if anyone wants to sue you and take your shirt, hand over your coat as well. I anyone forces you to go one mile, go with them two miles. Give to the one who asks you, and do not turn away from the one who wants to borrow from you." (Matthew 5: 38 – 42 NIV)
Few recognize that the above scripture is the basis for peaceful protest against injustice. Each of these situations were public statements against legal but inappropriate punishment. It was legal to strike a slave on the cheek with the left hand; but in turning the other cheek you would be making a statement to your owner to strike with his right hand, thereby making you equal with him and subjecting him to the possibility of being punished under the law. Imagine a court situation where your shirt is lost; unlikely though it may be; the reaction of totally agreeing with such an unjust judgment by leaving your coat as well and walking out naked certainly is a demonstration of protest. The Roman soldier could force a passer-by to carry his pack one mile; if you were to cheerfully continue a second mile you would make the soldier subject to possible discipline from his officer which could be as severe as death. All of this gentle, yet decisive protest could only be carried out if one did not care for his own life or finances. The concluding protest is to give of your resources to anyone who asks.
All of these examples of living are a demonstration of the fact that we do not hold this earthly life dear but find our treasure in heavenly places. I am greatly encouraged by many in the world realizing that life is worth more than self-consideration. I am inspired to continue to live according to the life and teaching of Jesus my Lord.
Write comment (0 Comments)